Alex Traube, a Santa Fe photographer who spent two years as artist-in-residence at Robertson High School, in 1981 and 1982, will feature photographs taken in early 1980s Las Vegas in an exhibit at the Kennedy Gallery from New Mexico Highlands University. The exhibition will open on March 1, 2022, with a vernissage on March 6 from 2 p.m. to 5 p.m. Traube will also give a public talk at 5:30 p.m. on Friday, March 25 and a free community workshop at 10 a.m. Saturday March 26. The conference and workshop will take place at the Highlands Trolley Building. Due to Covid-19 precautions, Kennedy Gallery capacity will be limited to 70 people at a time, and the conference can accommodate a maximum of 40 people.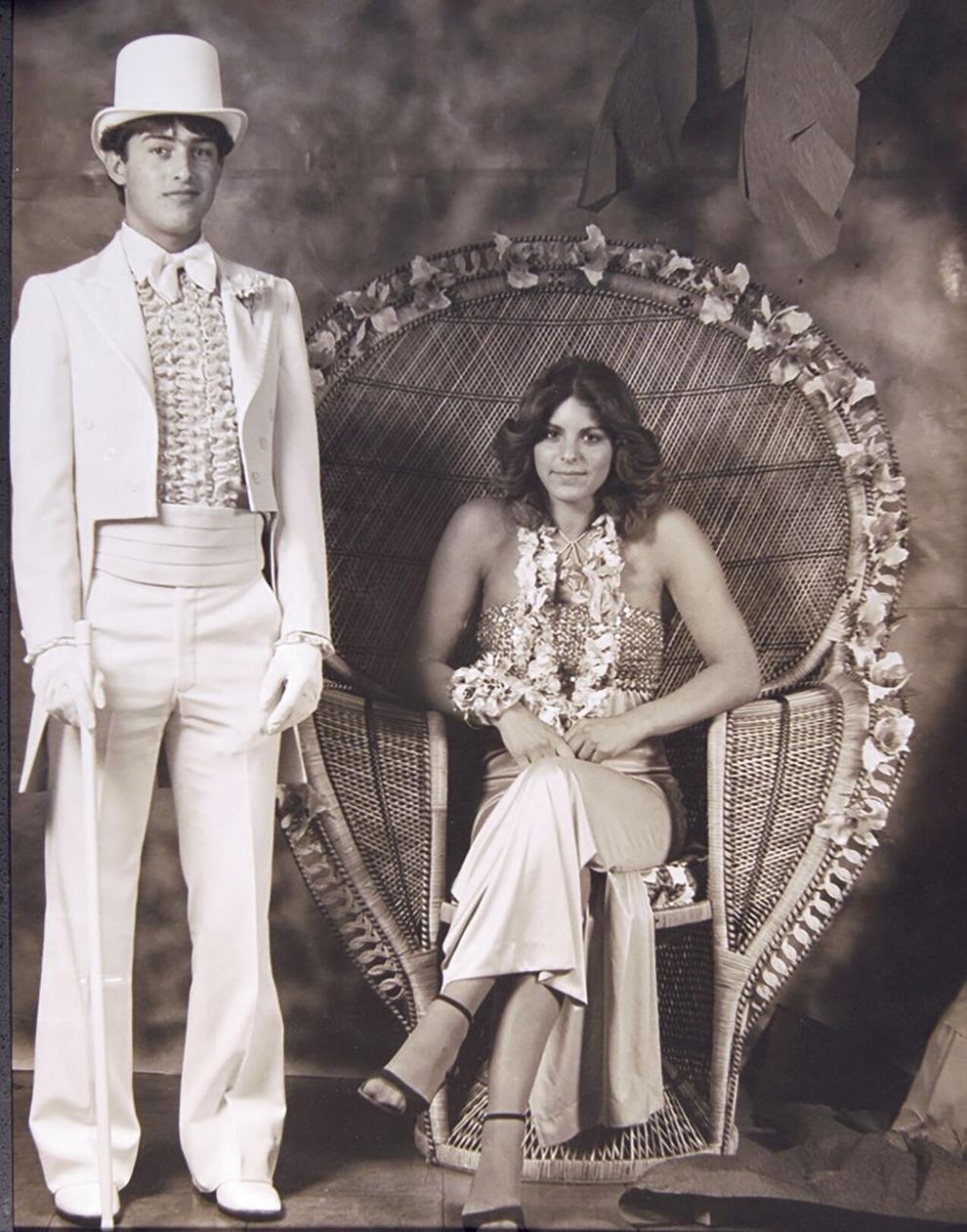 The exhibit will feature two series of photographs, "Prom Night" and "Las Vegas, New Mexico: A Portrait." The first series includes sepia toned prom photographs of Robertson High School, 1981. The second series captures the city of Las Vegas in 1981 and 1982 in panoramic black and white photographs.
In one of the photographs from the "Prom Night" series, a young woman is seated in an ornate wicker peacock chair. Her hair is feathered, Farrah Fawcett style, and she wears a sparkly strapless dress with a Hawaiian lei draped around her neck. Her date stands next to her in a white three-piece tuxedo, complete with tailcoats, ruffled tuxedo shirt, bow tie, top hat, gloves, and a cane. The couple smile at the camera, a picture suspended across four decades and into a new century.
Residents of Las Vegas, New Mexico, could see little that has changed in Traube's photographs of the city since 1981. Vehicle models have changed, and the former JC Penney building on Douglas Avenue no longer houses his namesake store, with child-size mannequins in its windows, but the wide streets and buildings like the Serf and "Bedpost Manor" will be familiar even to viewers who weren't alive or living in Las Vegas , in 1981.
Traube has been a photographer for fifty years and describes his photos of Las Vegas as a departure from his other narrative work. He said that although he doesn't usually walk around with a camera around his neck, he frequently walked around Las Vegas while he lived there and took the photographs that appear in the exhibit.
"I just walked around the city. I was proactive, but in another way I was passive – just taking what was offered to me, so to speak. I haven't consciously imposed a point of view on either series," Traube said. "I've never been to a place like Las Vegas. It's probably one of the most authentic, if not the most authentic, small towns in the state."
Traube served as artist-in-residence at Robertson High School while under Sal DiDomenico as principal, Carmen Holguín as vice-principal, and Silas López as superintendent of the East Las Vegas School District. In his role as artist-in-residence, Traube taught photography to Robertson students who were interested in the art of photography.
"We met in the Seventh Street Annex in a beautiful Victorian building. At one point, the nuns lived upstairs where we had our darkroom," Traube said. "It was a nice little dark room. The kids were great. You teach high school algebra, and it's a tough fight, but with photography, it's magic. We had a great time and I felt very supported by the school.
When Robertson's manager asked Traube to take pictures for prom in 1981, he happily agreed.
"I had a friend who was a commercial photographer and he lent me the lighting setup and I had his camera which I loaded with color film," Traube said. "They had this peacock chair that they probably borrowed from the theater department, and I just told them to look at the camera lens."
Traube said he took two photos of the couples at the ball; one in color that he offered for sale to couples and one in black and white film that he kept for himself.
"I find myself quite moved by these because with the patina of age they have become artifacts."
Traube's public lecture, "Portraits, Images & Words and Stories from a Lifetime in Photography", will be hosted by Highlands University Media Arts & Technology in the McCaffrey Historic Trolley Building on Friday, March 25 at 5:30 p.m. about the narrative impulse that has inspired his work for five decades, as well as the style he implemented for his Las Vegas photos. Additionally, he will talk about using photos from family albums as a stepping stone to unlocking memory.
In the community workshop "Where I come from: family photos, memory and the creative process", Traube will facilitate observation and active listening exercises. Participants will learn to "read" a photograph and take their own photos and associate them with text. All ages and levels of experience are welcome; Space is limited.
For more information about the exhibit or conference, contact Renée Buchanan at [email protected] or 505-426-2132.